Guest Blog by Rivercity Pilates Owner, Carey Sadler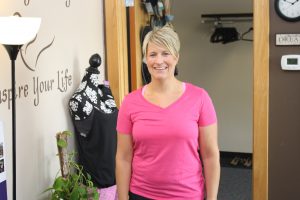 As a Pilates instructor, a Pilates practitioner and as a Pilates studio owner I am thrilled to see all of the Pilates instructors and studios on social media including Facebook, Twitter, Pinterest and Instagram!  I have to admit though that many times I'm disappointed and a little amazed at the pictures I see in these marketing outlets.
If you teach Pilates or practice it, you know that the amazingness of Pilates doesn't happen when you are doing a full split on the reformer in your sports bra, when you are hanging upside down on the Cadillac or when you are practicing a handstand.  These things are all great if you can do them but they really don't make a Pilates practice.  And even for those practitioners who can do these things I guarantee they are not the staple of their Pilates practice.
To me the amazingness of Pilates happens when my everyday clients feel strong and amazing in their life and they can do it with ease and without pain.  It happens when they can play with their kids with energy or shovel the snow off their driveway without back pain.  This amazingness of Pilates usually happens by doing some pretty basic, fundamental Pilates exercises on a regular basis and incorporating it into your life.
So I really don't understand how so many Pilates instructors and studios consistently use photos of pretty advanced Pilates movements and exercises in their marketing and social media prescence. If you are trying to share the amazingness of Pilates to the world and maybe try to convince someone to start doing Pilates (and hopefully start with you), do you really think that pictures of you doing crazy, advanced exercises will entice them?  For the everyday person who might be feeling a little out of shape, unflexible and apprehensive to try something new I guarantee that seeing you hanging upside down in a full split is going to intimidate them.  Pictures of people in workout bras and short shorts are not going to make them want to start Pilates and if anything they are probably going to say," Wow I could never do that…this Pilates thing is not for me… or I don't want to go to that place because I don't look like that."
I'm not saying you should never post a cool picture or video of you doing some of your advanced exercises….what I'm saying is that if you are using social media to market your business and maybe spread your amazing talent of teaching movement maybe you should start gearing your pictures toward the kind of people you want to help.