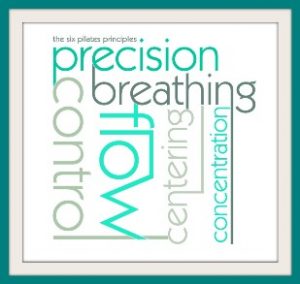 If you practice Pilates, you're sure to have heard about the six Pilates principles that Joseph Pilates based the Pilates method around:
Centering
Control
Concentration.
Precision
Breathing
Flow
Joseph Pilates talks about these principles in the book he authored called, "Return To Life". However, these principles also apply to social media marketing.   It's also important to remember that "Rome was not built in a day and that PATIENCE and PERSISTENCE are vital qualities in the ultimate successful accomplishment of any worthwhile endeavor".   While Mr. Pilates wrote this about Pilates, they are equally true for social media marketing.    Results don't come in one day, it is over time that you notice growth and success.
Centering -Working around the center of your business will be your powerhouse.    If your business is Pilates, then posts about recipes and healthy food are good, but will likely not produce the results you want.   Your audience will want to use your social media posts for information and education about Pilates.  Work from your powerhouse!
Control – You are in control of your message.  Concentrating on the message allows you to influence outcomes.    In Joe's words – Contrology is not a system of haphazard exercises designed to produce only bulging muscles.
Concentration –  Keep focused on the message all the time.   Social Media Marketing for your business isn't something you should do while multi-tasking.    Concentrate on the message you are sending, and how your target audience will interpret it.  People make purchasing decisions based on what they see in social media.   Incorrect grammer, typos, will be judged.   In Joe's words, "Concentrate on the correct movements EACH TIME YOU EXERCISE, lest you do then improperly and thus lose all the vital elements of their value.
Precision — You need to know your target audience.  You need to know them so well that you could draw their picture (if you could draw)!    Age, income, industry, likes, dislikes, the size of their family.   You may have several target audiences, but you should be able to describe each one.   In Joe's words, "When all your muscles are properly developed you will, as a matter of course, perform your work with minimum effort and maximum pleasure.  
Breathing — When isn't breathing important?   A deep Pilates breath can keep you from responding to an email or a social media post in a way that could be misinterpreted!  In Joseph Pilates words,  "Our very life depends on it."    Treat social media the same way.   What goes on the internet, stays on the internet and your business depends on it.
Flow –  Consistency is the key to success.  Social media posts must have a common theme, and not seem random to the people that view them.   "The movement from one exercise to the next through transitions creates a fluid dancelike movement.    Do your social media posts create a dancelike movement?    I think of watching my parents do a polka, and I think I need to work a little harder to create flow between my posts.
Who knew? How in the world did Joseph Pilates write a book with principles that we could apply to social media marketing over 50 years before social media was invented?   He was one smart dude.