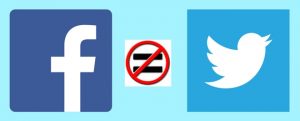 Facebook and Twitter are both social media tools.   They are not the same.   Thus, you should interact with them differently.   I'm going to try to explain some of the differences to help you understand!
Facebook is about connections between people.   Twitter is about topics or ideas which are usually labeled with a hashtag.
With Facebook you can write paragraphs or pages — although people might not read it — would you?   In Twitter — you are limited to 140 characters and part of those 140 characters need to be devoted to why people should read your tweet!  In 140 characters you have to write your message, catalog it with one or more hashtags, and convince people to like or read your content.   
For the most part, people will read your Facebook content because they are interested in you.   People read your Twitter content because they are interested in your topic.
Ok — that's it in theory — now we'll do some social media marketing examples to help explain.  I'm going to paste the example in from Twitter since most people are familiar with using FaceBook.
Example:

Just wanted to let you know that on Valentine's Day you can bring your sweetheart to class @Rivercity Pilates with you for free!   Just let us know so we can make sure we have room in the class!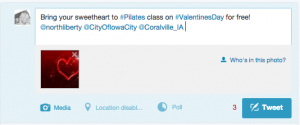 I pasted this right from Twitter so you could see how Twitter keeps you aware of how many characters are left (See the red numeral 3 in the lower right?  It tells you that you have 3 characters left before you reach 140).    It has hashtags for the topics (marked with a pound sign) – Pilates class and Valentine'sDay (no space to make sure the entire hashtag shows up.   #Valentine is a different hashtag than #ValentinesDay.
Then I "tagged" the cities the business serves for two reasons.   The city might retweet it to all their followers.   The second reason is to let Twitter users know that the Pilates Class on Valentine's Day that they can bring their sweetheart too is in or near these cities.
I added a picture, because research shows that engagement is higher when there is a picture attached to the tweet.   In the Facebook example above, you could also add a picture. Getting people to engage on Facebook so your post is another challenge which I blogged about here.
I'd love to hear your comments and questions – so please leave a comment.   I know this is hard to learn, so I'll do some more examples in future blogs and on #TwitterTuesday – I'll show you my pet peeve!