I've heard it time and time again. People say, I love Facebook, I love Pinterest, but I just can't figure out why I should like Twitter. I can't tell you all the reasons I love Twitter in one blog, so I've decided I will have a "category" of blogs about Twitter, so you will be able to learn at your own speed. Each one will have a task associated with it — designed to help you learn twitter. If you want, I'll also schedule webinar or two to help answer questions and give you an overview. Just respond with a comment if you are interested.
I love Twitter because it's short and sweet!    People have to get (and keep) my attention in 140 characters or less.    I can check my Twitter feed numerous times through out the day to look for things that interest me.
I love Twitter because it allows me to connect with people from all walks of life, celebrities, athletes, and not just watch them, but communicate with them.   I was watching a NASCAR race on TV one afternoon, and one of the broadcasters was so excited he was talking with his hands.  I tweeted (and tagged him) and he tweeted me right back and told me he just gets "so excited!".   I tweeted photos of incoming weather, and had them picked up not only by the local weather reporters, but some national channels.    Can you imagine how loyal a fan will be if you answer the question they ask in a tweet?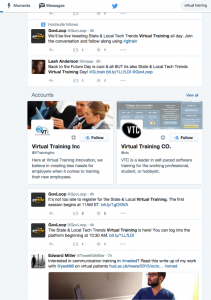 I love Twitter because it is an entire library of information, and I find the physical libraries a bit overwhelming.     Have you been to a University Library and seen a card file that took up an entire room?   (Yes, when I went to college there were physical card files.  Please don't laugh.)
Before I ever had a twitter account, I need to learn how other organizations had converted from face-to-face training to a more virtual training model.    I did a google search and the results were overwhelming.    I went to twitter, did a search on "virtual training" and got a list of tweets.   I found links to articles, links to courses, and just plain opinions on pros and cons of virtual training.     I knew that "hashtags" were essentially a way of cataloging tweets, but I learned what hashtags to follow to find things that interested me. I found articles with research, links to more research, and people to follow who were changing the face of the training industry.    It was then, that I learned I would need my own twitter account to be able to follow people and ask questions.   In the evenings I sat with my iPad on my lap, researching Twitter for ideas that would help me at work.   Yes, if it's not obvious yet, I have been called a workaholic in the past.   
[tweetthis]
Are you having trouble figuring out #Twitter?[/tweetthis]Ok, I realize that I can't convince you to love Twitter in one blog.   So, one more example, and then an assignment.    Remember how I said I love Twitter because it connects me to people, no matter their walk in life, or their physical location.    I realize that all the sports stars and celebrities I follow may have someone tweeting for them, but you see many of them doing it themselves.
I love NASCAR.   It fascinates me.    Drivers going 200 MPH.    Their families watching them drive inches from 42 other drivers.   The money.  The marketing.   The sponsorships.  The fans. I even listen to the NASCAR channel on the radio.    I love Twitter because it allows a NASCAR driver to be up close and personal with their fans.   It's a one driver to thousands of fans relationship. Drivers will mention their sponsors in their tweets, and they will tweet pics from appearances that you won't normally see on TV.     Some drivers tweet on race days, some drivers tweet many times every day.    However, through their tweets, you make a connection.   You get to know them. You may get to know their family, and in turn, you are more loyal, you are more vested in watching them in the race on Sunday.
So here's your assignment.   The weekend is coming up, and it's full of sports. MLB Playoffs, College Football, Pro Football, the NASCAR Chase – if it's out there — people are tweeting about it.  Just get out your smart phone during that sporting event, download the twitter app or go to Twitter.com thru your browser, and search for the team that is playing. Read what people are saying.   Click on some links — then comment here and tell me what you find!