I'm pretty embarrassed to admit this, but I'm going to share because I learned a lesson that could be valuable to you.    Here's my suggestion — add an item to your weekly To Do list called "check your website!"
Here's what happened to me.   I was behind at blogging.   Last week, I kicked myself in the butt, and actually wrote some new blogs, completed some blogs that I had in draft, and got them scheduled.    As I completed each blog, I checked them to make sure they were displaying correctly, but there were a couple where I forgot to add a featured photo!   That's on my list now as well!     I felt really good — because I had written 5 blogs, and I was feeling pretty proud of myself.    A few days later, I went to my website to check on something else — and I was embarrassed to see that my recent posts looked ridiculous.
I have a widget that displays recent posts on my front page automatically — but instead of looking clean and professional — it looked like the picture below.   Of course I'm sure that some of you would say that the solution to this is not blogging – but that doesn't help your web page with fresh new content!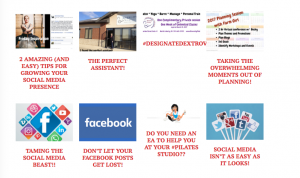 YIKES!   The pics were not consistent, some were the wrong size – and the red color was way too "in your face" for me!     Even though the red matched the barn in the farm picture on my website — I was not pleased.   Lesson learned.   I tell people all the time that their website should be considered an employee.    Well, this farm girl had let her employee (the website) go without supervision while she worked on client projects.   Bad plan.
About an hour later, after creating some customized featured photos in a product called "Canva" (www.canva.com) – a product I use daily, and doing some customization for the colors on my front page — this area of my website looks much cleaner (and doesn't scream the titles with that red font!)

I still have some things on my list that I can work on (shorter titles, more consistent featured photos) — but I'm not embarrassed about the way it looks now!  The moral of this story — treat your website like and employee — and be sure you take time to do an "employee" review each week, just to make sure that "employee" is representing you well!