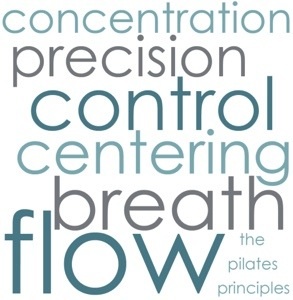 How often do you talk to your students about applying the Pilates principles in their lives – when they're not in the studio?  As a Pilates student, I don't always remember to implement the things I learn in Pilates sessions when I'm at taking part in other activities and when I do remember — it usually turns into a positive experience.   .
We were attending a rodeo recently that had multiple performances.  The featured artist who sang the national anthem had a beautiful voice, but he did embellish the melody and he really emphasized and held the word and so long it was driving me crazy. (land of the free AND the home of the brave – who knew that AND was the most important word there?)   I like my national anthem sung pretty much straight up.   So every night, at time for the national anthem, I would start to cringe when he started to sing – because I knew how it was going to end!
So instead of concentrating on the vocal interpretation, I started to use the Pilates principles and think about the things I could control, and not the things I could not control.  Was I standing up straight?    Were my shoulders back?   Were my shoulder blades slid down and hugging together?   Was I squeezing my abs and gluts?   Were my feet in alignment?    What about my legs?    Was I using my inside thighs to keep my legs / feet in alignment?   I put my focus on the flag in the arena, and used the words of the national anthem like a mantra in my head, one phrase for each breath so I could focus on the message and the moment, and not the vocal interpretation.
The results?   When I'm in a private Pilates session, I use the Pilates principles to destress and work out.    When I was at the rodeo and the vocal interpretation got on my nerves, I used the Pilates principles to focus on being centered on the message and got some muscles working in the process!